What is the most "exclusive hotel" in the world?
My cousin works in luxurious hotels and once he showed me a book about what he thought should be the most exclusive hotels on Earth. Those hotels have incredible architectures, outstanding restaurants, and top-notch service. But still he changed in mind when I introduced him to the ESO hotel at Cerro Paranal (aka the James Bond base). What make this place stand head and shoulder above the multi-million palaces?
It is exclusive. It is not the hotel's room prices that make this place exclusive, it is the criteria that one has to fulfil before he or she can book a room there. The rooms are occupied by ESO staff or visiting astronomers only. But being an astronomer is not enough, he or she has to be granted access to one of the world-class telescopes at Cerro Paranal before to be allowed to reside in this hotel. Unfortunately there is not much time at the telescopes to accommodate all astronomers' ideas and the competition is stiff to get the opportunity to observe there.
It is beautiful. If it is only about restricted access, then many places on Earth are very exclusive. The stunning Paranal hotel is also an award-winning building seamlessly embedded in the side of a mountain slope. You enter the building from a long spiral slope from the top of the hotel. As you walk down the slope towards the reception you can contemplate the most spectacular feature of the hotel, a small tropical garden surroundings a swimming pool. The decoration is minimalistic. Still the earthy tone of the concrete has a soft and calm feeling that is needed in such harsh environment. Each room has a spectacular view of the sterile Atacama desert.
It has been used as a James Bond villain hideout place in the movie "Quantum of Solace". Daniel Craig, the actor playing James Bond, dedicated a picture to thank the staff at Paranal during the shooting. I looked for a similar dedication by the actress playing the James bond Girl Olga Kurylenko but I failed. Was there ever a picture of her there that somehow "disappeared"?
It would be challenging to find another place like that.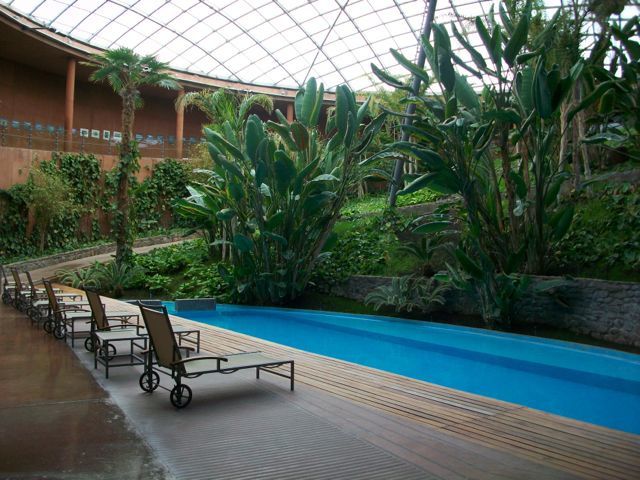 To be informed of the latest articles, subscribe: